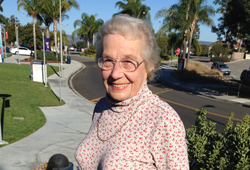 Marian Miller, Oceanside-Carlsbad Junior College (O-CJC) Alum, along with her late husband Dean Miller, is creating a lasting legacy by including MiraCosta College in their estate plan.

Education has been an influence in Marian's life, providing her with many positive opportunities. It was through the O-CJC that Marian started her educational journey, and met her late husband, Dean. Marian gained necessary skills here, which she used to create a wonderful life for her and others.

From O-CJC, Marian transferred to San Diego State University, and attended for one semester. The Dean at the time helped Marian receive her Master's in Education Psychology, by providing an opportunity to gaining an education through teaching at a Carlsbad high school. Marian also taught and counseled at San Dieguito High, and worked for the Vista Unified School District with students with special needs.

Marian retired at the age of fifty, and didn't stop there. She received her broker's license to work with her husband, and when she did retire she continued to quench her thirst for education by taking classes in quilting, calligraphy, and anything else that sparked her interest.

Marian has benefitted from MiraCosta College, and she is giving back, because she "believes in junior colleges". Marian recognizes junior college's need for support, as she explains she would "help a small pond, rather than a big one."

Join Marian and Dean in supporting MiraCosta College, and place us in your estate plan today. Your legacy will touch many.