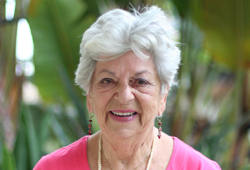 Rita Koor recently joined MiraCosta College's pursuit to providing affordable higher education, by placing the college in her estate plan. Rita's generosity will establish an endowment for the arts, which is a passion she holds dear.

Rita's interest in the arts was sparked by her mother and father who attended many art exhibits and shows. She recalls the first production she attended, "Bloomer Girl" the musical. She also reminisces seeing the Metropolitan Opera with her father, and standing the whole time to get the best view possible. Such moments became the gateway to furthering her passion and support for the arts.

Rita was led to MiraCosta College, because she "believes in education" and views MiraCosta as, "the open door" to those seeking higher, affordable education. Through Rita's generosity in placing the college in her estate plan, she is pursuing her desire of creating opportunities to education for others, and allowing the arts to continue growing. She explains, "I've had a good life, I want to pay that back."

Rita glows of generosity, kindness, and spirit. Because of her investment in the college, the art programs will be supported for years to come, allowing Rita to leave a lasting legacy.