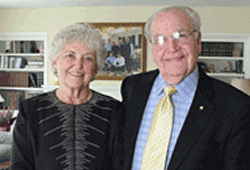 For June and Knox Williams, long-time Carlsbad residents and community leaders, establishing a charitable gift annuity with MiraCosta College is a natural extension of their philanthropic involvement in the community.
"I know that there are a lot of deserving students who need a little financial assistance," Knox says.
The idea of establishing a charitable gift annuity for the college came to him when he read in MiraCosta's "Transforming Lives" newsletter about the passing of his good friends, Jim and Dorothy Gaiser. Jim had served on the MiraCosta College Foundation Board as its treasurer for many years and had established an endowed scholarship fund for MiraCosta College students.
Knox is particularly interested in helping MiraCosta students because he also got his start in higher education at a community college. The oldest of five children, Knox was the first in his family to seek and obtain a college degree. He spent three and a half years working and taking classes at Bakersfield Community College, where he found a faculty member who believed in him and encouraged him to continue his academic career at a university. He later transferred to UCLA, achieving a bachelor's degree in business education.
"I spent three and a half years trying to find myself at a community college. I am so grateful for the experience and for the difference having a college education has made in my life and in my children's lives. I want to make it possible for others to have those same opportunities," Knox says.
It was while he was selling sterling silver door-to-door to pay his college fees that he met his future wife, June. Years later she would call him to order more silver, and from there they began their lifetime romance. They celebrated their 56th anniversary this past year.
Most people know Knox and June from their former business, Rayne Water Conditioning, located in Vista since 1969. They bought the franchise in 1961 and recently sold the business to their daughter and son-in-law, Jodi and Rusty Wallis of Carlsbad. The business is also famous for the many uplifting and community-oriented messages that are displayed each week on their company sign. Knox is also a member and past president of the El Camino Real Rotary, the chair of the Carlsbad Charitable Foundation a.k.a. Endow Carlsbad, and a more than 20-year member and former chair of the board at the Joe and Mary Mottino Family YMCA (formerly known as the Santa Margarita Family YMCA).
"We are so grateful to the Williams for making this investment in MiraCosta College and its students," says Elaine Dodge, Associate Development Director of the MiraCosta College Foundation.
A charitable gift annuity is a wonderful way of securing a charitable tax deduction and lifetime income while assisting students. The full tax and income benefits of establishing a charitable gift annuity is explained in detail below.
What is a Charitable Gift Annuity?

A charitable gift annuity is a simple contract in which you exchange a gift of cash or securities for a fixed income each year for the rest of your life (or for the lives of two people). Charitable gift annuities may be created with a gift of $10,000 or more. Additional contributions create new annuity contracts rather than building on existing annuities.

What are the benefits?

Income for Life - at attractive payout rates for one or two lives.

Tax Deduction Savings - a large part of what you transfer is a deductible charitable gift.

Capital Gains Savings - a large part of your annual payment is a tax free return on principal.

Capital Gains Tax Savings - when you contribute securities for a gift annuity, you minimize any taxes on your paper profits.

Personal Satisfaction - from making a gift of lasting significance.

How much will I receive?

Gift annuity rates are determined by the age of the person or persons who receive income payments. The following chart shows that rates are higher for older donors. We can provide you with payout rates for two-life arrangements.

For more information on how you can participate in the Charitable Gift Annuity Program, call Associate Director of Development for the MiraCosta College Foundation, Elaine Dodge, for your confidential, personalized gift calculation. Her telephone number is 760.795.6652.