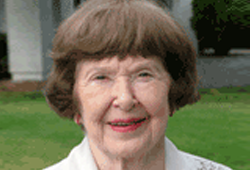 "She was such a dear person to us," shares theatre faculty Eric Bishop. By the time she passed away in January at age 95, Maria Grant's character and generosity had been sewn into the fabric of MiraCosta College theatre productions.
In retirement, Grant volunteered in the Theatre Department carrying on a devotion to costume production from her days as a high school teacher. "Maria even came to our awards nights in costume for the party theme. She was definitely more than just a financial supporter of our students," said Tracy Williams.
Her legacy of connection and goodwill continues on at MiraCosta with Charitable Gift Annuities (CGA's) she established with the Foundation. Now that she has passed, the remaining value of her CGAs support the Theatre Department through a she called it, her "needles and thread" fund. Through her gift annuities, Grant made a difference in the lives of students, one stitch at a time.