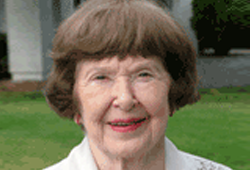 Maria Grant loves MiraCosta College's theatre productions and she loves MiraCosta College. So when she learned that the MiraCosta College Foundation had developed a charitable gift annuity program that would allow her to make a gift to the college while also increasing her income, she contacted the foundation right away.
Ms. Grant, 84, is a retired school teacher benefiting from a modest pension and her savings. By creating a charitable gift annuity, she was able to more than double the rate of return on the funds she had invested in CDs from 4% to 9.2% from the charitable gift annuity.
"We (seniors on a fixed income) are afraid that we'll outlive our savings. This is an answer to that concern," says Grant. She added that she was motivated to participate when she saw that the college was raising funds for the completion of the new Creative Arts Complex.
Ms. Grant, of Oceanside, currently volunteers at the Oceanside Police Department, is a docent at the Rancho Guajome Adobe and has been involved in the Oceanside Historical Society. She has had a widely diverse professional background and most recently taught Spanish to medical personnel and law enforcement.
"This is a wonderful gift to the college," says MiraCosta College Interim President/Superintendent John Hendrickson. "Her gift has the potential of making a significant difference in our students' academic careers. We are grateful for her generous support."
What is a Charitable Gift Annuity?
A charitable gift annuity is a simple contract in which you exchange a gift of cash or securities for a fixed income each year for the rest of your life (or for the lives of two people). Charitable gift annuities may be created with a gift of $10,000 or more. Additional contributions create new annuity contracts rather than building on existing annuities.
What are the benefits?
Income for Life - at attractive payout rates for one or two lives.
Tax Deduction Savings - a large part of what you transfer is a deductible charitable gift.
Capital Gains Savings - a large part of your annual payment is a tax free return on principal.
Capital Gains Tax Savings - when you contribute securities for a gift annuity, you minimize any taxes on your paper profits.
Personal Satisfaction - from making a gift of lasting significance.
How much will I receive?
Gift annuity rates are determined by the age of the person or persons who receive income payments. The following chart shows that rates are higher for older donors. We can provide you with payout rates for two-life arrangements.
For more information on how you can participate in the Charitable Gift Annuity Program, call Executive Director of the MiraCosta College Foundation Elaine Dodge, for your confidential, personalized gift calculation. Her telephone number is 760.795.6652.