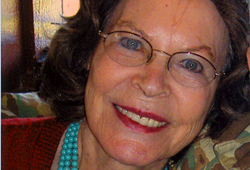 Her life story could be a best seller. But instead of writing a book, this former German countess, nurse, pilot, prisoner of World War II and philanthropist prefers to use her time and resources to alleviate suffering for children in war-torn Afghanistan and pave the way for financially strapped students to earn a nursing degree at MiraCosta College.

Theresia Heyden is a true citizen of the world and could have made her home on almost any continent. We count ourselves lucky that she has chosen to live in Oceanside, where her home has become the epicenter of her good works. It is from her modest house that she is currently planning her next trip to Afghanistan, where she will meet with three orphaned siblings whom she financially supports and where she will check in with a friend who runs a secret school for girls that Theresia funds.

Here in her own back yard, Theresia has just established a $100,000 charitable gift annuity with the MiraCosta College Foundation, specifying that the remainder of her gift be used to fund scholarships for nursing students. Her affinity for nursing stems from her lifelong nursing practice – in World War II as a battlefield nurse, as a volunteer nurse practitioner for the World Health Organization in the Indonesian province, Irian Jaya, and in meeting the needs of the suffering in Afghanistan after the 2005 Kashmir earthquake.

"I'm an idealist and I love people. I'm a good diagnostician because where I go, I must diagnose without a hospital. I teach but I also learn, even from the primitive tribe I lived with in New Guinea," Theresia explained to a Los Angeles Times newspaper reporter when being interviewed about her membership in Mensa, where applicants must score in the top two percent of the population on a standardized intelligence test.

As Theresia, at the age of 87 and going strong, continues to save the world one person at a time, MiraCosta College nursing students know that they have a new friend.